The trucking industry is short-handed and the need for alternative solutions is at an all-time high. Rising fuel prices and inflation rates have only exemplified the need for electric semi-trucks and autonomous vehicles. Experts believe the self-driving future is just over the horizon—so now is the time to prepare.
Rising fuel prices and inflation rates have only exacerbated the need for electric semi-trucks and autonomous vehicles. Such vehicles used to be in the realm of science fiction, but breakthroughs in AV technology are turning fantasy into reality every day. Today, several well-known brands such as Ford, Volvo, Daimler, and Tesla are striding towards fully automated trucks. These vehicles aren't just in production—they're already on the road (in limited capacities)!
Self-driving electric semi-trucks and tractor-trailers will completely change global logistics, and one day, these autonomous trucks won't be bound by human limitations. They'll be able to drive through all hours and conditions, creating a 24/7 logistics network in the eCommerce age. That day, for logistics business leaders, is not too far off. As fuel and inflation continue to chip away at profits, what do experts say about the future of electric semi-trucks?
Fuel and inflation aside, ongoing driver shortages have remained a mighty contributor to the current supply chain crisis. According to the American Trucking Association, as of the end of 2021, the industry was short some 80,000 drivers. Coupled with a 12-month turnover rate for long-haul workforces, the need for alternative solutions is at an all-time high. One study from the University of Michigan finds that replacing long-haul drivers with autonomous vehicles could replace up to 90% of human driving.
The autonomous trucking venture currently focuses on long-haul cross-country trips, as open roads prove easier for on-board systems to navigate. But as technology improves, a time will come when we'll see electric semi-trucks dominating delivery even in the most congested areas around the world.
Are Electric Semi-trucks for Transportation Right Around the Corner?
Over the past decade, autonomous vehicles have gone from sci-fi to everyday reality. In fact, self-driving tractor-trailers should log thousands of miles in highway testing in 2022, inching closer to a world full of self-driving electric semi-trucks. Some of the brightest engineers around the world are racing to achieve full automation, backed by financial giants like Google or venture capital funding.
While solving immediate supply chain concerns isn't currently in the cards, preventing future driver shortages and human limitation issues will prove more manageable. Logistics business leaders must understand where the industry stands before investing in electric semi-trucks and self-driving tractor-trailers.
Major autonomous vehicle (AV) players have shifted funding towards the trucking sector, specifically self-driving Class-8 tractor-trailers. In recent years, eight different AV start-ups raised a collective $1.4 billion for autonomous trucking plans!
Many companies have deployed their trucks on public roadways for testing and demonstration purposes—and some are already making revenue-boosting deliveries! (Of course, all these trucks still have safety drivers on board to take over if they must.) Considering this, instead of asking when autonomous trucking will become a viable option, the question has shifted to where.
Autonomous trucking doesn't come with a launch date pinned on the calendar. The industry will have to overcome many legal and logistical hurdles before deploying nationwide, and the most likely path will see fleets deployed throughout specific geographies around the country. As they do roll out, however, look west and southward. As it stands, the technology is not yet sophisticated enough to navigate the icy winters of the northern US.
Forecasts from Deloitte predict a three-stage roll-out of electric semi-trucks across the United States. Stage one should see autonomous vehicles navigating roads in Texas and up the West Coast. Favorable weather conditions and long stretches of roadway make sense for the early stages of self-driving trucks. Stage two sees autonomous trucks making the cross-country trips, fanning out across the Sun Belt. Finally, stage three predicts AVs navigating major roadways across America safely.
Christopher Thornycroft, senior VP of carrier operations of Redwood Logistics, spoke on how critical it is for the US to stay ahead of the curve or be left behind the competition. Writing about global competition, Thornycroft said, "If we're not careful, our global competitors' economies will roar past us in a fleet of automated vehicles… they'll be the ones reaping the benefits."
Autonomous development in China, backed by government policy and subsidies, is on the march particularly quickly. In 2021, California-based autonomous manufacturer Plus performed successful level 4 tests in China with no human intervention while navigating real-world conditions. Such conditions included avoiding obstacles like road debris and car accidents blocking the highway and managing interchanges. These cross-continental advances are key to developmental efforts to launch autonomous vehicles across Asian, North American, European, and Australian highways ASAP—with South America and Africa not far behind.
Can Electric Semi-trucks Mitigate Rising Fuel Prices and Inflation?
Modern advances in autonomous technology come with the added benefit of addressing old-world issues like rising fuel costs, inflation, and environmental sustainability. In light of these new solutions, many logistics leaders are working to convert to electric semi-trucks to cut fuel expenses and combat unstable markets.
Volvo, Daimler Trucks, and PACCAR are already pushing electric prototypes and drivable models into the market. Industry insiders predict 334 different models of commercial electric trucks to launch in 2024, and that more than a third of class 4-8 trucks will be battery operated in the next ten years. Keep in mind, that electric and autonomous are two different concepts. However, they do go hand-in-hand.
Industry titans like Walmart and Amazon have already fully committed to making electric trucks the future. Walmart reserved 130 Tesla Semis in September 2020 and plans to reach zero-emission status by 2040. Likewise, Amazon has begun implementing electric vans from Irvine-based start-up Rivian. Amazon aims to have 100,000 electric vans on the road by 2024 and, like Walmart, reach zero emissions by 2040.
Logistics business leaders must consider all direct and in-direct savings when switching to electric semi-trucks. Operating and maintenance costs in most cases can run 50% cheaper than diesel trucks. It's also significantly cheaper to recharge a battery than fill up on diesel, especially with today's prices. Studies from ACT Research predict that an electric Class 8 truck will chart a more beneficial cost of ownership than its diesel counterpart as soon as 2027, as emissions regulations take effect in California.
Logistics businesses should keep their eyes on emerging electric semi-truck production leaders, such as:
Arrival. This London-based start-up has recently opened its business to the US. In January 2020, UPS ordered 10,000 electric vans for delivery by 2024.


Daimler Trucks. The largest truck-maker on the planet, Daimler prides itself on the Freightliner eCascadia, a 250-mile range electric big-rig.


Ford. The American classic announced its E-Transit cargo van in 2020, with an aim to replace its more popular traditional vans.


Tesla. The Tesla Semi has been in production since 2017 but has faced several delays. When completed, though, CEO Elon Musk has promised two models with an impressive range. The $150,000 model will come with a 300-mile range, while the $180,000 model will have a 500-mile range.
Why Consider Automated Solutions for Transportation and Logistics Operations?
The autonomous truck industry has, at last, moved beyond mere prototypes and speculation, and now engages in real-world on-road testing. While the wholesale transition to fully-autonomous trucks is likely a ways away, the impact of rapidly-market pressures is already evident in changing laws and public sentiment. Manufacturers and logistics companies should watch for changes in laws governing self-driving trucks as they refine to meet new supply.
As the industry focuses on minimizing human intervention, business leaders are eager to showcase the benefits of autonomous electric semi-trucks. Mike Roeth, executive director of the North American Council for Freight Efficiency, points to the safety benefits and job creation of autonomous trucks. Roeth notes that, unlike a human driver, onboard computers never get tired. Reaction times are not hindered by long-haul hours or weeks away from home. Once autonomous vehicles can handle cross-country trips on their own, drivers won't have to leave home for weeks at a time. As the industry faces immense driver shortages, autonomous trucking provides a solution to the problem, says Roeth.
Tiers of Automation—Helping You Gauge Progress
SAE International has marked five tiers of automation. These tiers act as valuable indicators of where the industry is and where it's heading. The tiers (or stages) slowly decouple the driver from the truck as technology progresses, escalating as follows:
Some driver assistance is required. Most autonomous vehicles are still in this stage today.


The driver is in control, but steering and acceleration are regulated.


A human driver is on-board, but the truck makes decisions about overtaking slower vehicles, braking, and other situations.


The vehicle can operate in ideal environmental conditions without human intervention.


Full automation without the need for a human driver in any environment.
According to Ross Froat, director of technology and engineering policy at the American Trucking Associations, "Level 4 is the industry's focus now."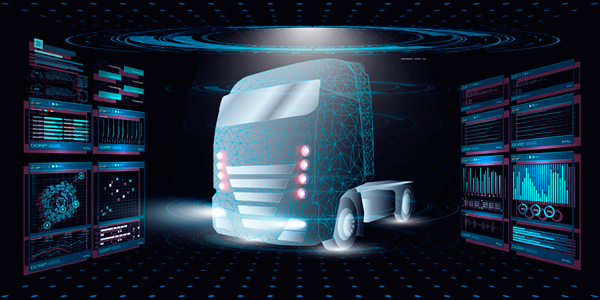 The opportunities for safety and sustainability only build as autonomous trucks move through the five-tier stages. First and foremost, autonomous trucks eliminate the most variable element of trucking—human error.
In tiers two and three, the technology focuses on saving fuel through aerodynamics and determining ideal travel speeds for fuel-efficiency. AVs utilize onboard navigational software to locate maximally fuel-efficient routes. Computerized acceleration, speed, and braking can further make AVs more efficient than human drivers.
Through stages four and five, AV companies continue to leverage technology to enhance safety measures further. Getting through these stages will put autonomous trucks on more hazardous roadways, through areas known for adverse weather.
For logistics companies, it's essential to consider the up-front costs and insurance premiums associated with autonomous trucks. According to the American Transportation Research Institute (ATRI), autonomous tractor-trailers could cost as much as $200,000. Dan Murray, senior vice president of ATRI, also pointed to insurance premiums, saying investments in autonomous technologies to make vehicles safer don't translate to reduced premiums.
A report from the World Economic Forum, on the other hand, directs attention to the safety, environmental, production, and convenience factors associated with AVs. AVs also come with lighter maintenance and repair costs, due to increased diagnostic data that catch minor issues before they become significant problems. Like any business decision, investing in AVs has pros and cons to weigh—but the former seems set to quickly outweigh the latter.
Plan for Your Automated, Electric Future
For transportation and logistics companies, investing in a fleet of electric semi-trucks and autonomous vehicles is a massive undertaking. But as inflation, fuel prices, and driver shortages continue to climb, companies will be forced into the automated future. Experts believe the self-driving future is just over the horizon—so now is the time to prepare. Thankfully, the benefits of self-driving trucks can outweigh initial costs and implementation.
The electric, automated future is coming. Whether it's with electric fleets now or investing in automated fleets to come, now is the time to make sure you don't get left behind. In order to plan for this substantial investment and its near and longer term impact to your balance sheet, business leaders should consult with a trusted financial partner. The team at Minnesota Bank & Trust, a division of HTLF Bank has the industry insight to guide your business through this exciting, if uncertain, time. Reach out today!